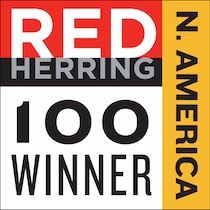 CloudBolt Software today announced that the company has been selected as a Red Herring Top 100 North America winner. The Red Herring Top 100 North America recognizes leading private companies in North America, celebrating these startups' innovations and technologies across their respective industries.
"CloudBolt is on a major growth trajectory—recording consistent year-over-year revenue growth since its founding in 2012. In the past year alone, CloudBolt saw 10x growth in annual recurring revenue and 3x growth in customer deployments," said Jon Mittelhauser, CEO, CloudBolt. "This award is strong recognition of the benefits that CloudBolt's cloud delivery platform provides to the enterprise, helping organizations manage their increasingly complex IT environments and bridge legacy, current and future technologies."
Red Herring Top 100 America enlists outstanding entrepreneurs and promising companies. It selects the award winners from approximately 1,200 privately financed companies each year in the US and Canada. Since 1996, Red Herring has kept tabs on these up-and-comers. Red Herring editors were among the first to recognize that companies such as Facebook, Twitter, Google, Yahoo, Skype, Salesforce.com, YouTube, Palo Alto Networks and eBay would change the way we live and work.
"In 2015, selecting the top achievers was by no means a small feat," said Alex Vieux, publisher and CEO of Red Herring. "In fact, we had the toughest time in years because so many entrepreneurs had crossed significant milestones so early. But after much thought, rigorous contemplation and discussion, we narrowed our list down from hundreds of candidates from across North America to the North America winners. We believe CloudBolt embodies the vision, drive and innovation that define a successful entrepreneurial venture. CloudBolt should be proud of its accomplishment, as the competition was very strong."
About Red Herring Top 100 North America
Red Herring's editorial staff evaluated companies on both quantitative and qualitative criteria, such as financial performance, technological innovation and intellectual property, DNA of the founders, business model, customer footprint and addressable market. A review of the track record and standing of startups relative to their sector peers, allowed Red Herring to see past the "buzz" and make the list a valuable instrument of discovery and advocacy for the most promising new business models in North America, complement this assessment of potential.
About CloudBolt Software
CloudBolt Software transforms how IT interacts with business by significantly improving service to lines of business. CloudBolt is a powerful cloud delivery platform that doubles as an on-premise, unified IT manager and self-service IT portal that leverages existing IT resources and technologies to maximize the value of private and hybrid cloud environments in minutes. Enterprise IT organizations can be more agile with CloudBolt, automating the request, provisioning and ongoing management of systems and applications from an intuitive user interface or through a common API. For more information on CloudBolt visit http://www.cloudbolt.io.