I'm thrilled to announce that CloudBolt C2 is the Cloud Manager Dell is using in their recently announced Dell Cloud for US Government. In this solution, CloudBolt C2 provides the automated workflows, provisioning, rapid scalability, and metered pricing customers need in order to become their own cloud provider.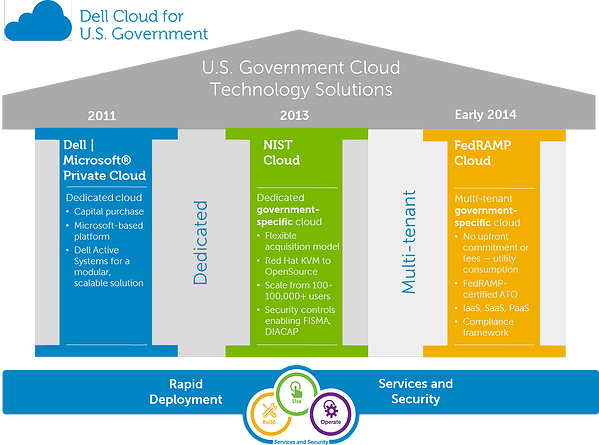 The Dell solution enables organizations to take advantage of the cloud delivery model to provide a range of on-demand resources to end users in a predictable and reliable manner, all while using infrastructure that meets various US Government security criteria including:
NIST 800-53
FedRAMP
FISMA Low and Moderate
DIACAP
NIACAP
HIPAA
This solution is being offered two ways:
Dedicated solution either hosted or installed in a customer environment
Hosted multi-tenant on-demand cloud
Either way, Dell has the ability to provide either solution in a manner that meets the broad range of security criteria Government Customers are faced with.
This solution required a powerful Cloud Manager that could not just offer an intuitive, easy-to-use interface, but also one that could just as easily support multi-tenant environments as it could single tenant ones. C2's Section 508 compliance, robust orchestration layer and the ability to plug into nearly any required technology made it the natural and secure fit for the Dell Cloud for US Government solution.
Dell offers this solution with a flexible acquisition model: either can be purchased with enough capacity for as few as 100, and all the way up to 100,000 or more VMs. This Dell Cloud for US Government solution can be Dell hosted, installed in a customer environment, or offered as a hybrid model. No matter how you chose to consume it, the capabilities and certifications are the same. Dell has rolled in over 270 security controls to help customers attain and track any ATOs needed to run in their environments.
Dell's FedRAMP Cloud builds on the capabilities of the NIST Dedicated Cloud solution and adds the required security controls to achieve FedRAMP certification. This Dell-hosted multi-tenant environment allows public cloud-like metered on-demand access to secure computing resources. Because this solution comes with FedRAMP certification, no additional ATOs are needed for those agencies able to run FedRAMP-approved solutions.
Dell Federal Services CTO Jeff Lush has a series of YouTube videos where he highlights the capabilities of this solution.
Customers will use CloudBolt C2 to request on-demand Infrastructure as a Service (IaaS) and Platform as a Service (PaaS) resources, which will automatically be provisioned, tracked, and managed in an ongoing basis. Organizations that deploy the dedicated solution will get access to the full suite of C2 capabilities, including multi-cloud management, which will enable those customers to manage other Virtualization or Cloud environments as well.
CloudBolt C2's power and flexibility were key reasons why Dell chose C2 for this solution. Interested in learning more? Give us a ring at 703.665.1060.
(FedRAMP stands for Federal Risk and Authorization Program. See more info about that here.)
(Dell is a registered trademark of Dell, Inc.)