C2 v4.2 of Controlled IT Self Service is Now Available
Our latest version features a new UI, and steps up the awesome from there.

Look and Feel
Already hailed as "the most intuitive" IT Self Service Software available on the market, C2's new user interface brings a modern look to the C2 Controlled IT Self Service Portal you know and love.
The new UI elements and organization will allow us to add additional capability into C2 that would have been troublesome to do in our existing UI. Interested in learning more about our roadmap? Drop us a line.
C2's new look also includes a number of significant backend performance improvements. You should notice that overall, the UI is more responsive, loading pages faster, and filtering results quicker.
Dashboard
This latest version of C2 also introduces the C2 Dashboard. The C2 Dashboard provides an overview of things that are relevant to the user, including server statuses, order history, and information on the latest jobs. By default, the C2 Dashboard also serves as the landing page users are directed to upon login. As is the case with everything in C2, users will only see information on items that are relevant to them, and that they have permissions and access privileges to.
Reporting
Controlled IT Self Service requires reporting. Although C2 included a separate external advanced reporting system, customers asked for, and we have delivered some significant additional reporting functionality.
C2 v4.2 now includes integrated reporting. C2 will now produce charts and graphs right from the UI, and also gains the ability to directly export the source data as CSV, which can then be opened and further analyzed in a spreadsheet program of your choice. C2 v4.2 ships with a number of embedded reports today, and we'll be adding more with every update. Also new with integrated reporting: regular users also gain access to reporting capabilities. When run by a non-administrative user, the reports will only display and aggregate information about the servers, groups and logical data center environments they have access to.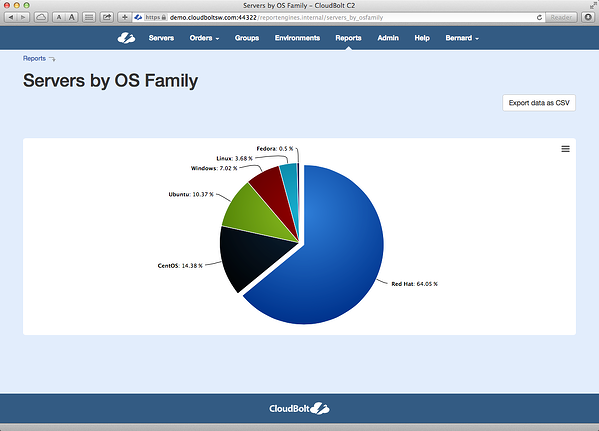 C2 Integrated reporting is also now available to C2 VE customers, including those that are using C2 VE at no-cost in environments under 100 VMs.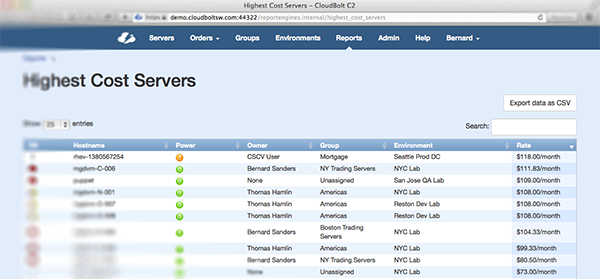 For those customers that have implemented C2's advanced external reporting (which is provided by an external Jasper reports instance), those reports are now displayed to administrators directly in the UI. To ease the installation and configuration, CloudBolt also now provides the external Jasper reporting server as an OVA download. Contact support for more information.
Orchestration Hooks
Orchestration Hooks are how C2 interfaces and automates external systems that either do not have or need a connector. Every job type in C2 has multiple points where Orchestration Hooks can be configured to run, automating every last manual process and procedure in your IT Organization. While C2 has had this impressive capability since inception, we've made a few important changes in C2 v4.2.
We've made the power of C2 Orchestration Hooks even more accessible with an all-new UI. Additionally, we've also made it possible to select External Orchestrator flows from configured and integrated External Orchestration tools, including HP Operations Orchestration and (coming soon) VMware Orchestrator. Just select the appropriate job type, and then pick the hook point, and choose the flow(s) you'd like to run.
LDAP/AD Integration
C2 has directly integrated with multiple LDAP and/or Active Directory instances for a while now. In C2 v4.2, we've updated some of those fields to provide the room necessary for filter and search of larger, more complicated LDAP/AD environments.
The Upgrade Process
Good news! It's as easy as ever.
Ready to get started? Request a download today.