Latest version adds a Cloud Supply Chain Validator, a Service Catalog, Updated Abstraction Layer, and Native Integration with External Orchestration Tools.
CloudBolt Software, Inc. announced the general availability of Command and Control (C2) v4.0, the latest release of the next-generation Cloud Manager. C2 v4.0 adds numerous innovative and groundbreaking features developed in conjunction with key C2 customers that represent a new level of capability and performance in the enterprise IT space. Despite the advanced capabilities of C2, it is still highly intuitive and easily deployed in any sized IT environment.
With this release, CloudBolt C2 adds several capabilities previously unavailable in a single-product Cloud Manager, and continues to drive value with customer's existing IT infrastructure, while still allowing them to implement best-of-breed technologies to solve real business problems.
"We've put a significant amount of time and effort into the planning and development of C2 v4.0, " says John Menkart, CloudBolt CEO." The new capabilities, which include the C2 Cloud Supply Chain Validator, C2 Service Catalog, External Orchestrators, and support for customer-created connectors, further distinguishes C2 as the most capable, flexible, and powerful Cloud Manager available on the market today. The fact that several of these features were devised while working in conjunction with partners when on-site with customers also further exemplifies the CloudBolt team's abilities to effectively understand, and elegantly solve complex customer problems."
"In our many dealings with CloudBolt, we've been impressed by their constant ability to innovate in ways that are meaningful to customers," says Kevin Duerr, CEO of Riverturn, a CloudBolt partner that helps customers implement enterprise IT solutions. "Providing customers the ability to write their own C2 connectors is evidence that they understand the types of problems customers experience in their IT environments. We have yet to come across a Cloud Management need that C2 has not been able to meet."
CloudBolt C2 enables Business-Driven IT, where each and every resource is fully attributable to a user and group, and enables IT administrators and executives to finally answer the types of questions that were once particularly vexing, for instance:
What amount did a particular project spend on IT resources across the enterprise?
Ordered by group membership, how many deployed servers have not been turned on in ten days?
CloudBolt C2 v4.0 provides many new features that IT organizations need to more efficiently manage enterprise IT environments, including:
Cloud Supply Chain Validator
In a first for Cloud Managers, CloudBolt C2 v4.0 includes a Cloud Supply Chain Validator (CSCV), which proactively detects problems with the subsystems that C2 uses to provision resources to end users. In most Enterprise IT environments, the provisioning of virtual machines and services requires much more than just deploying a template to a virtualization management system. Enterprises employ many different tools to effectively govern the provisioning and management process—going beyond typical virtualization management to include Orchestration tools (also known as runbook automation), Public and Private Cloud Frameworks, and Data Center Automation/Configuration Management tools. Each tool that C2 connects with to automate is a part of a Cloud Supply Chain. With the CSCV, C2 routinely and automatically tests administrator-defined activities to ensure that each separate step in the Cloud Supply Chain is operational. The result is that when any part of the workflow necessary to deploy a service or resource fails, C2 administrators will be notified with precise details where the individual test failed, and at which step an Administrator is required to intervene.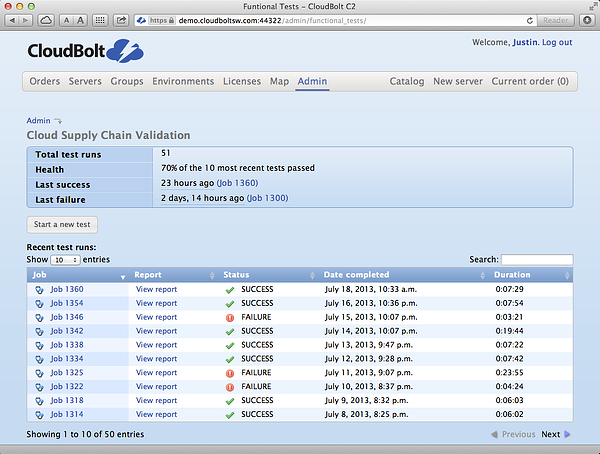 Ensure all needed underlying resources are available with our Cloud Supply Chain Validator UI.
The following are real-world examples of how CSCV benefits IT Organizations:
The administrator of a vCenter environment changes the console password. vCenter continues to operation normally, but users can no longer provision to that environment.
An Orchestration developer updates an external workflow to require additional input, and doesn't notify other admins.
In either case, the automated provisioning would break. In both cases, CloudBolt C2 would proactively notify administrators of a problem executing workflows across external systems.
"The introduction of the C2 Cloud Supply Chain Validator", says Jimmie Neighbors, pureIntegration Director, "is a game changer for Enterprise customers. Once implemented, Administrators will be able to use C2's own provisioning and management capabilities to ensure entire workflows are functioning as expected, from request to a fully provisioned service. Enterprises have needed something with this capability."
Multi-Portal Support
Adding to it's robust Role-Based Access Controls, C2 v4.0, adds multi-portal support. C2 can now be configured to accept connections from multiple URLs, each of which may display a different UI appearance, including customer logos, colors, and authentication target.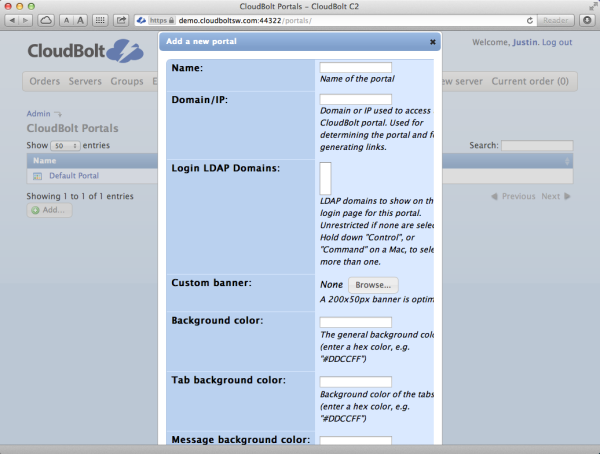 Use C2 to create multiple login portals for different user groups or organizations.
Service Catalog
Expanding on it's incredibly intuitive and modifiable interface, C2 v4.0 now includes a built in service catalog. The C2 Service Catalog allows administrators to pre-create services, assign group and environment permissions, and make those services available to other C2 users. A service for CloudBolt C2 is any combination of servers, applications, networks (physical or virtual), and environments. In short, anything that can be ordered in C2 can be made into a service, allowing easy ordering of complicated services and application stacks.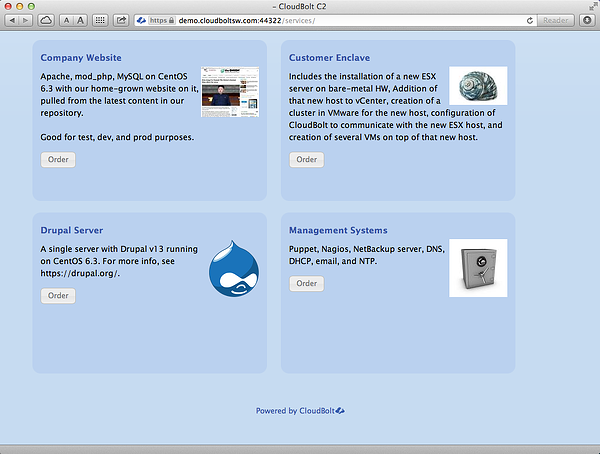 Users can select from pre-configured services in C2's new Service Catalog.
Abstraction Layer 2.0
A key aspect of C2's architecture is that the abstraction layer allows for the rapid development of new connectors, which in turn expand the range of technologies that C2 can natively communicate with. C2 v4.0 contains two important updates to the Abstraction Layer: a new connector class, External Orchestrators, and a new Open API that allows for customer-written connectors.
The updated Abstraction Layer also enables External Orchestrators. Once an External Orchestrator is connected into CloudBolt, C2 Administrators will gain the ability to import and call nearly any external workflow at multiple points during the provisioning, decommissioning, power status change, and health check processes. Users with the correct permissions will also be able to see and execute specific external workflows from within CloudBolt C2.
Connector Updates
The Puppet Configuration Management tool is now fully supported. Environments with Puppet installations can now use C2 to automate the installation and management of applications and configurations in C2 environments. Users can be presented with and select from a list of available applications. Puppet-managed environments also get the same License Management, permissioning, and rate metering that C2 provides.
Additionally, C2 has added Red Hat Enterprise Virtualization Management (RHEV-M) to the list of currently supported Hypervisors.
Summary
CloudBolt C2 is free to download and use up to 100 VMs. C2 v4.0 is available for immediate download by visiting (LINK), or contacting sales at cloudboltsoftware.com or by calling 703.665.1060.
More information about pureIntegration can be found by visiting www.pureintegration.com.
More information about Riverturn can be found by visiting www.riverturn.com.
About CloudBolt Software
CloudBolt Software transforms enterprise IT by providing Command and Control of IT resource technology that provides the consolidated operational intelligence needed to make strategic IT decisions—or as it is called—"Business-Driven IT". CloudBolt Command and Control (C2) cloud manager rapidly deploys an on-premise cloud that enables hybrid cloud capabilities, provides IT resource management across multiple platforms and cloud frameworks, manages data center automation tools, understands software licenses, and effectively delivers both Infrastructure and Platform as a Service (IaaS/PaaS). The ultimate benefit of CloudBolt C2 is the ability to leverage a new business model for effectively metering, provisioning and managing IT using products from multiple vendors in multi-stack environments without regard for the underlying infrastructure.
Based in Rockville, MD, CloudBolt Software is dedicated to creating solutions that ensure the success of its customers. Please visit www.cloudboltsoftware.com for more information and resources about CloudBolt C2.
pureIntegration is a registered trademark of Pure Integration, LLC.
Riverturn is a registered trademark of Riverturn, Inc.
###