Tuesday, JUNE 30, 2020 — 1 PM ET
Growing your AWS environment means expanding your hybrid cloud capabilities. However, it is important that you keep your resource usage in check while keep your data secure at the same time.
Join Rick Kilcoyne, CloudBolt's Chief Product Officer, and Shashi Raina, AWS' Partner Solution Architect, and see first-hand how CloudBolt will help you gain control over your AWS resources. In this webinar you'll learn more about:
Governance & Compliance
Cost Management & Visibility
Automation & Orchestration
If you can't make it don't worry—we'll send you a recording the following day
Speakers: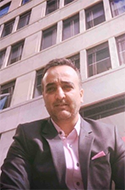 Shashi Raina - Partner Solution Architect, Amazon Web Services: Shashi Raina is a Partner Solution Architect at AWS. Shashi has more than 15 years of experience in the technology and cloud space, including at Amazon Web Services, Toys "R" US, Knowledgent, and Equinix among others.
He works with startups that are building products in DevOps and Big Data space. He lives in New Jersey with his wife and 11-year-old twin boys.
Rick Kilcoyne - Chief Product Officer, CloudBolt: Rick was named CloudBolt's Chief Product Officer in 2019. He joined CloudBolt in 2013 and before being named Chief Product Officer was CloudBolt's VP of Solutions Architecture.
Rick has more than two decades of experience in technology and engineering positions, including at Millennial Media, US Naval Research Lab, Gold Lasso, and Opsware (acquired by HP) among others.
About Amazon Web Services
Amazon Web Services offers a broad set of global cloud-based products including compute, storage, databases, analytics, networking, mobile, developer tools, management tools, IoT, security and enterprise applications. These services help organizations move faster, lower IT costs, and scale. (aws.amazon.com)
About CloudBolt
CloudBolt is the leading cloud management platform for the enterprise. Deployed in minutes, CloudBolt helps IT unify orchestration and automate the provisioning of their hybrid cloud resources—quickly, cost-effectively, and securely—while providing developers with anywhere, anytime access to those resources through a self-service catalog. (www.cloudbolt.io)