Register now to see how a true cloud management platform can extend your cloud.
Tuesday, AUGUST 11, 2020 — 1 PM EST
Every cloud has its challenges, and Microsoft Azure is no exception. But with the right tools, tackling any issue can be simplified. Hear directly from Visorian GmbH's Christoph Burmeister to see how Visorian used CloudBolt to build an Azure Kubernetes Service UI to fill the needs of their users in this upcoming webinar.
Burmeister and CloudBolt's Nilesh Deo will also provide a deeper dive into:
A demo of the Azure Kubernetes extension
Related use cases
Why they chose CloudBolt's CMP
If you cannot attend, don't worry—a recording of the webinar will be sent out to all registrants the next day. Can't wait to see you there!
SPEAKERS:

Christoph Burmeister - Senior Consultant, Visorian GmbH: Christoph Burmeister works as a Senior Consultant at Visorian GmbH based in Hamburg, Germany. He is a Microsoft MVP for Cloud and Datacenter Management and specializes in Infrastructure Automation, DevOps and Identity Management.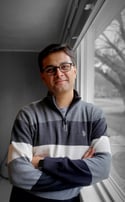 Nilesh Deo - Director of Product Marketing, CloudBolt: Nilesh Deo is Director of Product Marketing at CloudBolt software. Before CloudBolt, he worked at VMware marketing their CloudHealth platform. Nilesh enjoys learning about new technologies that impact organizations and users.
About Visorian GmbH — SA modern digitization strategy requires comprehensive knowledge about people, processes and technologies being used. Only in this way can a successful transformation of the company be achieved. Together with our customers we create a holistic strategy for long-term business success. (https://www.visorian.com/)
About CloudBolt — CloudBolt is the leading cloud management platform for the enterprise. Deployed in minutes, CloudBolt helps IT unify orchestration and automate the provisioning of their hybrid cloud resources—quickly, cost-effectively, and securely—while providing developers with anywhere, anytime access to those resources through a self-service catalog. (www.cloudbolt.io)