CloudBolt's flagship cloud management software adds support for additional private and public cloud platforms, including Google Cloud Platform, Microsoft Azure, and OpenStack Icehouse.
ROCKVILLE, Maryland – August 20, 2014. The latest update to the CloudBolt cloud management platform brings to the table a compendium of updates set to redefine the way IT organizations manage their virtualized environments.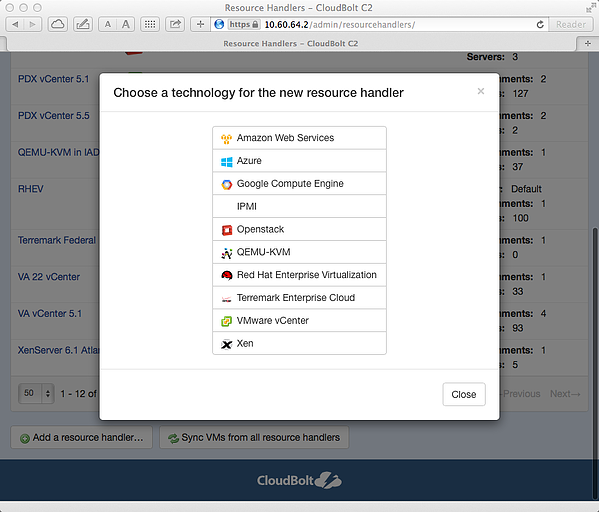 With CloudBolt 4.5.2, IT organizations gain even more flexibility in technology selection.
"Customers have spoken—and they're saying that using CloudBolt's easily-accessible and broad capabilities to manage existing on-premises virtualization, as well as instances in all of the leading public cloud providers puts us way above the rest," said Justin Nemmers, CloudBolt's EVP of Marketing. "When implemented, CloudBolt enables those same customers to completely automate the entirety of their cloud provisioning, management of server and application resources – saving tremendous amounts of time and money in the process," Nemmers added.
Here's a round-up of newly introduced features unique to CloudBolt's latest release:
With the latest update, CloudBolt adds support for Google Compute Engine. It's now possible to install, manage applications from a supported configuration manager, as well as to include GCE instances in service catalog templates.
The OpenStack connector has been re-based to include support for the current and previous two versions of OpenStack, including Icehouse, Havana, and Grizzly.
Microsoft Azure cloud support has also been added.

Customers can expand to use the best cloud for their hybrid and heterogeneous cloud needs.
The configuration management capabilities have also been improved. CloudBolt now has the unique capability to discover and import classes from a Puppet Labs server. Chef Configuration Management integration has also been beefed up – Chef bootstrapping on Windows and Ubuntu Linux systems is now possible.
A number of subtle yet highly focused updates to the CloudBolt UI – including integrated simple indicators make it much easier to manage large number of servers and applications across multiple environments.
Customers can automate the assignment and tracking of IP addresses and hostnames that are stored in Infoblox.
The updates further improve on CloudBolt's cloud provisioning features and the existing Gartner-recognized time-to-value, making it even faster. This empowers customers to achieve agility goals more rapidly, reducing IT staff involvement by as much as a whopping 90-95%. The reduction enables organizations to focus on undertaking core value-added tasks more effectively. Since CloudBolt integrates seamlessly with leading configuration management tools, users can effortlessly request and deploy full application stacks as need arises, accelerating overall application development procedures and deployment routines.
Interested parties may request a download of CloudBolt to gain near-immediate access to the entire compliment of CloudBolt functionality and benefits.
About CloudBolt Software
CloudBolt Software transforms how IT interacts with business. CloudBolt is an on-premise unified IT manager and self-service IT portal that leverages existing IT resources and technologies to create a private and hybrid/heterogeneous cloud environment in minutes. Your IT organization can be more agile with CloudBolt, automating the request, provisioning, and ongoing management of systems and applications from an intuitive user interface, or through a common API. IT organizations that use CloudBolt are more agile, and significantly improve service to lines-of-business. Please visit www.cloudboltsoftware.com for more information and resources about CloudBolt.